ROUNDUP WEEK 37 – FEBRUARY 12, 2021
Hi friends,

A little behind schedule this week but as promised, it's Friday and we are back in your inbox to tell you about a Black historical figure that we think you should know more about! Today's pick? The illustrious Ella Baker.

WHO WAS ELLA BAKER?

Ella Jo Baker was born in 1903 in Norfolk, Virginia. She grew up hearing her grandmother's stories about her own childhood on a plantation, raised enslaved. Before the 13th Amendment liberated her, Baker's grandmother was viciously whipped for refusing to marry a man chosen for her by her enslaver. That story of her grandmother's resilience and defiance inspired Baker's own resilience and defiance in the face of injustice and racism for the rest of her life.

Baker's grandparents eventually bought, built a home on, cultivated, and raised generations of their families on a parcel of the very plantation on which they were enslaved. They bought the land for $250, growing and harvesting on it for decades to come. This was Baker's childhood refuge, teaching her about farming and patience and justice alike.

Baker went on to study at Shaw University in Raleigh, NC, where she began her foray into advocacy as she challenged school policies. She graduated in 1927 and moved to New York City where she joined the Young Negroes Cooperative League. The YNCL's purpose was to develop Black economic power through collective planning, organization, and action. She committed herself to economic and racial justice; helping local leaders carefully craft and implement targeted campaigns against lynching, for job trainings, and to help Black teachers receive equal pay.

Baker's "iron will and gift for listening" made her extremely adept at identifying other young Black leaders, whom she would recruit, mentor, and encourage to take on leadership roles in the organizations to which she was a member: the NAACP and the YNCL. One of those recruits, Rosa Parks, would go on to inspire the Montgomery Bus Boycott (after Parks' refusal to yield her seat to a white man on December 1, 1955).

After the success of the bus boycott, Dr. Martin Luther King Jr. stepped into a figurehead role with the emerging group of Civil Rights activists. However, according to several historians, including biographer Barbara Ransby in her book Ella Baker and the Black Freedom Movement: A Radical Democratic Vision, it was Baker who laid the groundwork behind the scenes for the group's success. In 1958, Baker relocated to Atlanta to partner with Dr. King to spearhead the Southern Christian Leadership Conference, where she spent the next two and a half years behind closed doors, forging connections and planning actions.

In that time, Baker ran a voter registration campaign called the Crusade for Citizenship. She also organized the sit-ins at Woolworth's lunch counter in Greensboro, NC, to provide other young leaders with opportunities to practice activism and nonviolence. She then left the SCLC to form the Student Nonviolent Coordinating Committee with student leaders at Shaw University. SNCC members went on to join with the Congress of Racial Equality to organize the 1961 Freedom Rides and then the Freedom Summer of 1964, an effort to focus national attention on Mississippi's racism and to register Black voters.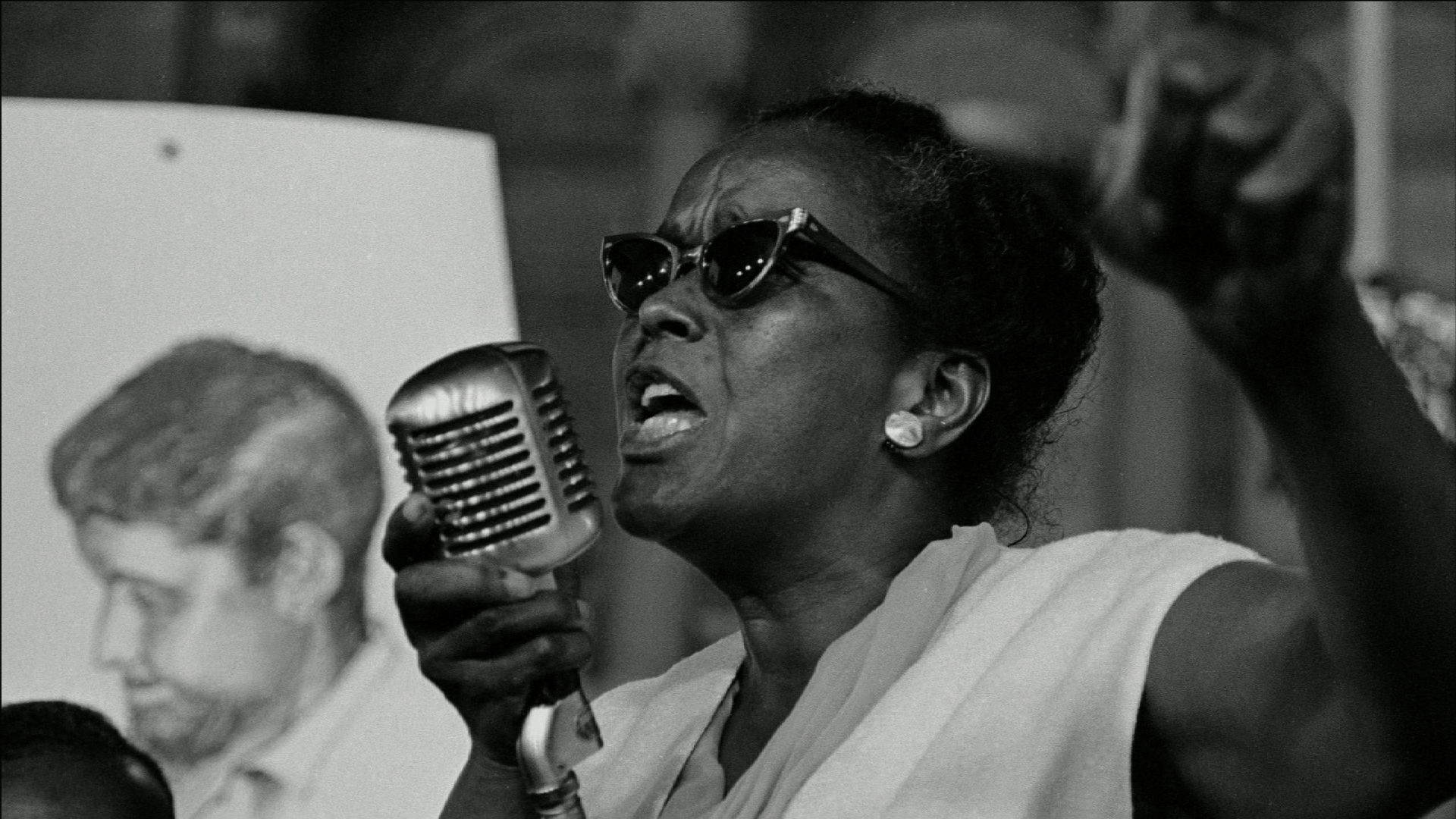 Image on left shows the Student Nonviolent Coordinating Committee button with black text around it and "We Shall Overcome" printed in the center, courtesy of Zinn Education Project. Image on the right is of Ella Baker speaking into a microphone at the SNCC in 1960. You can watch a short video that accompanies the photo courtesy of PBS Learning Media.

Wow, she's pretty pivotal to the Civil Rights Movement. Why haven't we heard more about Ella Baker?

Baker wasn't interested in the spotlight. Rather, she was deeply invested in watching others reach their own potential. Instead of headlining the Civil Rights Movement, Baker believed she was better suited to do the behind-the-scenes work and then pass the baton of the movement to young, capable, hungry leaders when the time was right.

Beyond that, the Civil Rights Movement was admittedly pretty patriarchal. She was given titles of "provisional" executive director of the organizations behind which she was a driving force, obscuring her critical role in their operations.

But mostly, Baker spent years of her life doing the unglamorous, thankless acts of listening, learning, and empathizing with Black community members who had been intentionally left out of conversations about leadership for so long. She was attuned to group dynamics and conflict resolution techniques, creating space for diverging ideas and growth within the groups she influenced. Years and years of cultivating a community full of other leaders doesn't carry quite the same zhuzh as a single discreet act of bravery like, say, refusing to give up one's seat to a white man on the bus. However, the choice to lead quietly and without attention was radical and complex in its own way. Without Ella Baker, who knows if there would still be a Southern Christian Leadership Conference, Montgomery Bus Boycott, or many of the countless acts of nonviolent resistance of the Civil Rights Movement. Without those acts of resistance, who knows what modern policy around race would look like today.

ONE MORE VERY COOL BLACK HISTORY FACT FOR YOUR WEEKEND

"DAP ME UP" is both a symbol among African Americans expressing unity, strength, defiance, or resistance and a language for communicating.Originating in the late 1960s among Black G.I.s fighting in the Vietnam War, the dap became an important symbol of unity and survival in a racially turbulent atmosphere. DAP is derived from a pact Black soldiers took in order to show their commitment to look out for one another. Eventually the dap was deemed illegal by the U.S. military, with Black soldiers being court-marshaled, jailed, and even dishonorably discharged if caught dapping up other soldiers.
DAP is an acronym that stands for "Dignity And Pride" and whose movements translate to "I'm not above you, you're not above me, we're side by side, we're together."
Photo of Black hands exhibiting motions of the dap; photo pulled from the Smithsonian Center for Folklife and Cultural Heritage.
Thank you to Keiko Cooley, @theblackmedstudent on instagram, who teaches us SO much about Black History. And speaking of Keiko…
MARK YOUR CALENDARS

Next Sunday, February 21 at 7PM EST, we'll be hosting Keiko Cooley, a soon-to-be MD who, fun fact, will be the first Black urology resident from her medical school next year! Keiko will be joining us to talk about all things Black History Month – it's origins, traditions, heroes, and how we can incorporate its lessons more fully into our day-to-day lives. In addition to being incredibly knowledgeable about the human body (she is Emily's go-to for quick instagram medical advice (thank you, Keiko!)), she is constantly learning and sharing Black history lessons on her social media and in every space she enters. Follow along for a daily lesson (just like the one about dapping people up!) with @theblackmedstudent.

Alright friends, we're signing off this week listening to Nikki Giovanni's poem "Cotton Candy on a Rainy Day" and this playlist of love songs that Emily admittedly made this morning while procrastinating writing the final sentences necessary to send out this newsletter (thank you to the Whelmed newsletter for inspiring this tangent this AM). Whomever you're spending this weekend with, we hope it's filled with love.

In solidarity,
Ellie, Emily, and Hayden